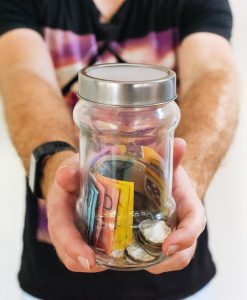 Are you scraping the bottom of the savings jar? If you're feeling the pinch of the Coronavirus economic downturn, you're not alone. I love helping people get out of their money problems, don't get me wrong… but the current economic climate is something else. However, there are always opportunities that come from any crisis.
Right now, you could be reviewing your entire money situation and come out with a better plan for the future. That includes completely restructuring your debts to change them from bad to good. Banks are very willing at the moment to help their customers to restructure mortgage agreements to avoid the type of mortgage stress that won't let you sleep.
Changing bad debt into good debt is just one such strategy. Let's look at what this means. Bad debt is debts which don't help you build wealth and where the interest expense is non-deductible. Bad debts include personal credit card debts, personal loans, HECS debts, primary residence home loans, etc.
In contrast, good debt is a debt which works to help you build wealth and where the interest expense is tax-deductible. Good debts finance investments in shares, rental properties, and businesses.
Firstly, use all available cash flow to pay down bad debt as quick as possible.
Until the bad debt is eliminated, good debt should be structured as interest-only payments, or ideally capitalised entirely (i.e. no repayments at all).
Tax Strategy 190 – Utilise business Goodwill to Payout Your Private Mortgage.
Tax Strategy 80 – Negative Gearing.
When purchasing investments with good debt, they should be financed with 100% debt.
Redraw facilities should not be used to pay private expenses or debts.
We are selling debt-free investments to pay out bad debt. Beneficial ownership of the investments can be kept by selling them to a related party (spouse or entity).
If your money situation is keeping you from getting a good night's sleep, contact us for a FREE Financial Health Check.
Please Note: Many of the comments in this publication are general in nature and anyone intending to apply the information to practical circumstances should seek professional advice to independently verify their interpretation and the information's applicability to their particular circumstances.